Many Chromebook users are dealing with WiFi issues where they're repeatedly disconnecting from the Wi-Fi network. This loss of connection disturbs their workflow and online activities.
Read this guide if you're having any of these Chromebook Wi-Fi issues:
Your Chromebook is frequently losing WiFi connection.
The Wi-Fi network disconnects automatically after some time.
Your Chromebook keeps switching WiFi networks.
If you're also facing the same WiFi connection issues, I've compiled a list of its potential causes along with the solutions to make your WiFi connection persistent.
Note: This tutorial is applicable to any Chromebook, regardless of the manufacturer i.e. Acer, HP, Pixelbook, Dell, Samsung, Lenovo, etc.
Causes Of Chromebook Wi-Fi Disconnecting Issue
Chromebook can lose WiFi connection due to:
Automatic Network Switching: If you have saved the passwords for multiple Wi-Fi networks on your Chromebook, it will automatically switch to the nearest available network with strong signals. To provide better connection speed, Chromebook disconnects your current WiFi and connects to a faster one.
Poor Wi-Fi Connection: If the WiFi signals drop to a certain point, your Chromebook will automatically lose connection from that network. To prevent a slow and unstable connection, the Chromebook will disconnect from that unreachable WiFi network and wait until the signals are restored.
Defective Wi-Fi Card: Your Chromebook WiFi card is responsible for receiving signals from the router. Due to the defective or malfunctioning card, the Chromebook fails to maintain a persistent connection and keeps disconnecting. Check for any loose connection between the WiFi adapter and its socket.
Connected Too Many Devices: If too many devices are connected to the same WiFi network, the router may hit its maximum device limit and fail to provide a new connection. To avoid network congestion, your Chromebook will automatically disconnect that WiFi and wait for a new connection.
Power Saving Mode: Your Chromebook has a built-in power saving mode that helps to conserve battery life. But it also restricts some functionality when enabled. To maximize the battery timing, the Chromebook automatically disconnects from the WiFi when there is no activity detected.
Outdated ChromeOS Version: If you didn't update the Chromebook software to the latest version, you may face various issues related to Wi-Fi. Due to the outdated network drivers, your Chromebook may not be able to provide a stable WiFi connection and disconnect from the network.
While there can be multiple underlying causes for this issue, this short list can provide you with insight into some common reasons why your Chromebook repeatedly disconnects your WiFi.
To fix the WiFi disconnecting problem on Chromebook:
1. Enable Auto Connect Network Option
Chromebook Auto Connect feature allows it to automatically connect to your preferred WiFi network. Your Chromebook will quickly reconnect to that network without any delay if it disconnects. Just open your connected WiFi Settings, enable Automatically Connect to this network, and reconnect again.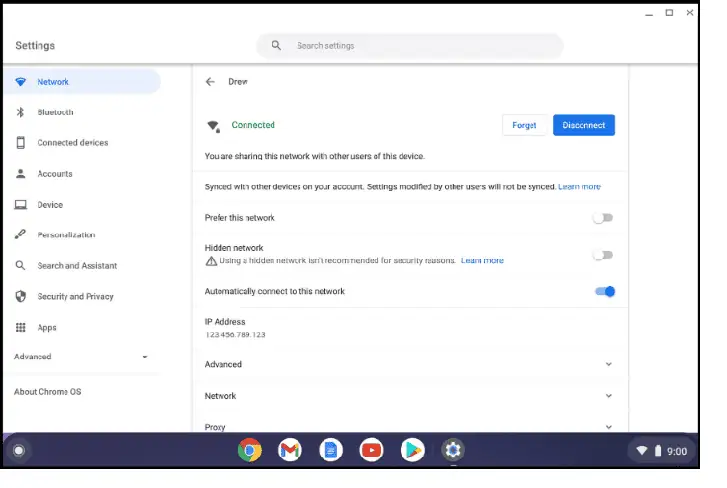 If the connection gets lost due to any reason, such as weak signal strength, you can continue your work without any manual effort if this option is enabled since it'll be reconnected to that Wi-Fi channel without any delay.
Enable Auto Connect to avoid disconnection issues:
Click on Time at the bottom right corner > Select Settings ⚙️.
Go to Wi-Fi Settings > Select your connected WiFi network.
Toggle on Automatically Connect to this network and Prefer this network options.
Once done, reconnect your Chromebook WiFi.
2. Remove All Other Saved Wi-Fi Networks
Your Chromebook continuously finds the best network from your saved WiFi networks. This automatic switching can cause the WiFi disconnection issue. To prevent intermittent connection, go to Wi-Fi Settings and remove all other saved networks except the one you're using currently.
Removing unnecessary connections will limit the Chromebook to focus on your connected WiFi to provide a stable connection.
Remove saved Wi-Fi networks to avoid disconnection:
Navigate to the Wi-Fi Settings on your Chromebook.
Select the Known Networks option to see saved networks.
Click More ⋮ next to a WiFi network > Click Forget, and repeat this step for all networks.
Connect to your primary WiFi and it won't disconnect now.
3. Turn on Wi-Fi Connection During Sleep
Chromebook's built-in power-saving mode disconnects your Wi-Fi when it goes to sleep to conserve battery. After that, you may struggle to reconnect to your Wi-Fi. To avoid this issue, open Privacy and Security Settings, enable Keep WiFi on during sleep and try connecting again.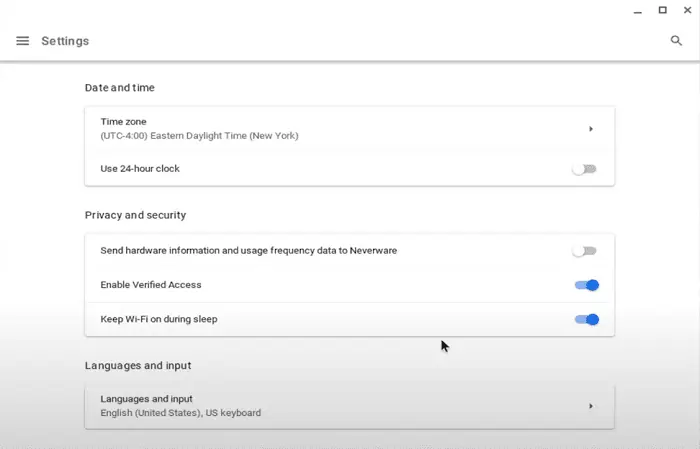 Once this option is enabled after following the simple steps, it'll provide a persistent wireless connection to your WiFi network.
Ensure a stable WiFi connection to avoid sudden drops:
Open your Chromebook Settings > Click the Advanced button on the left menu.
Navigate to Privacy & Security settings > toggle on Keep WiFi on during sleep option.
Now, reboot your Chromebook, re-connect to your WiFi, and it won't disappear again.
4. Disable VPN And Proxies
Chromebook allows users to configure their own VPN or install any third-party VPN software. But it can also cause Wi-Fi disconnection problems on Chromebooks. Disabling the VPN proxy is also an effective solution for this issue. To do so, simply open Network settings, select VPN, and disable it.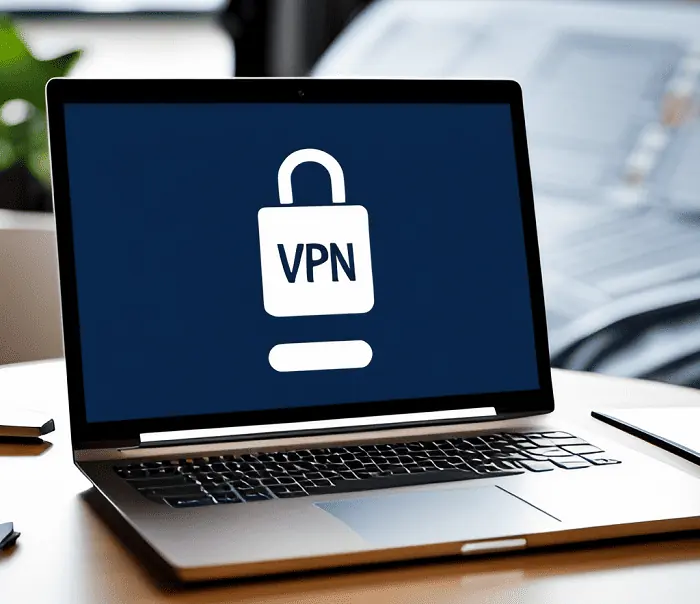 Once your Virtual Private Network is disabled using these troubleshooting steps, connect to your preferred WiFi network, and it should work without any interruption.
Disable VPN for reliable internet connection on Chromebook:
Method 1: Open Chromebook Settings menu > Navigate to Network Settings > Select the desired VPN > Click Disable.
Method 2: Click on Time at the bottom right corner > Then, Click VPN to disable the active VPN connection.
Method 3: If you're using VPN software, open it, disable the VPN, and re-connect your Chromebook WiFi.
5. Reset Your Wi-Fi Router Settings
Routers may experience glitches that can disrupt the Chromebook internet connection. To prevent it, reset your WiFi router to default settings by pressing the Reset button available on the back of the router for a few seconds. Then, re-connect your Chromebook to that WiFi network.
Once you reset your router to factory settings, it will delete all of its saved settings, so make sure to configure it again after resetting including your WiFi password. It's advised not to set hidden SSID while configuring your router.
The proximity of your Router to other electronic devices can also lead to connectivity issues. Make nearby routers are not causing any interference.
Router Settings to avoid WiFi disconnection issue:
Install the latest firmware on your router.
Set 2.4 GHz frequency on your router.
Disable WiFi extender to see if it's creating a disconnection issue.
Reduce the number of WiFi connections to the router.
Set up WPA2-PSK with AES Encryption for security.
6. Restart Your Router And Chromebook
Your Chromebook and Router may be experiencing temporary network glitches that cause sudden WiFi connection drops. To prevent it from happing again, simply turn off both of these devices, wait for a few seconds, and turn them back on to refresh the Chromebook network connection.
Restarting will help you clear out the underlying bugs and reinitiate the stable internet connection between your router and Chromebook. Once restarted, your Chromebook will have no disconnection issues with WiFi connections.
Restart Router: Unplug the router's power cable, wait for a few seconds, and plug it back in.
Restart Chromebook: Press and hold the power button for a few seconds to force reboot your Chromebook.
Once done, reconnect to your wireless router for a secure connection.
7. Install the Latest Version of Chrome OS
If your Chromebook is running an older Chrome OS version with outdated network drivers, you may experience frequent WiFi disconnections glitch. To solve this, Go to your Chromebook Settings and install the latest Chrome OS version. Then, restart your Chromebook and connect to your WiFi again.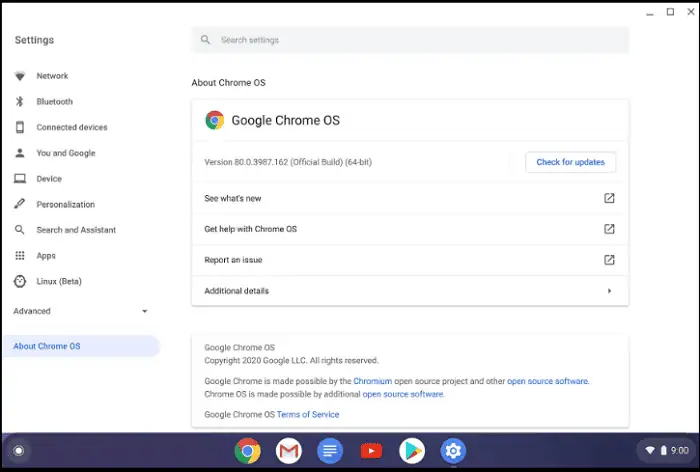 Once your Chromebook is updated, it'll not only resolve potential connection issues but also, it'll make your device faster and fix security and compatibility issues.
Update Chrome OS to resolve repetitive WiFi drops:
Click on Time at the bottom right corner > Settings ⚙️.
Select About Chrome OS > Check for Updates.
It'll start downloading the software updates, if available.
Restart your Chromebook, connect to your WiFi network, and it won't disconnect now.
8. Powerwash Chromebook to Fix WiFi Drops
Chromebook has a powerwash feature to hard reset the device that resolves the underlying glitches including network issues. To fix frequent WiFi connection loss on your Chromebook, try performing a powerwash. To do this, open Chrome Advanced Settings, select Powerwash, and then restart to hard reset.
Remember, it'll delete all of your data and settings so, make sure to take a backup before performing a hard reset as you can't recover it afterward. Once done, it should resolve your WiFi issues.
To perform Powerwash for persistent WiFi connection:
Open the Chrome browser on your Chromebook > Go to Settings
Select Advanced > Click the Powerwash option
Select Restart to start the hard reset process
Wait for the powerwash to complete and reconnect to your WiFi Channel now.
9. Replace Your Chromebook Wi-Fi Adaptor
Many users reported that replacing their Chromebook's WiFi card resolved the disconnection issues. Upgrading this module will fix frequent network disruptions. If your Chromebook is under warranty, contact the service center, and they'll replace it for you. Otherwise, contact a certified technician.
It's possible that your Chromebook hardware is causing the WiFi drops. In such cases, replacing the WiFi adaptor can be an effective solution to resolve this issue. Simply bring your Chromebook to the manufacturer's service center to replace the faulty adaptor.
It's best not to do it yourself unless you have the necessary skills and specialized types of equipment. Without proper care, there is a risk you may damage your Chromebook
Frequently Asked Questions
Why Does My Chromebook Keep Disconnecting to Wi-Fi?
Many users reported that their Chromebook keeps disconnecting from the Wi-Fi network and failing to maintain a persistent connection. It can happen due to various reasons, such as automatic WiFi switching, poor connection, defective WiFi card, or outdated ChromeOS version.
How to Reset Network Settings on Chromebook?
You can easily reset the Chromebook network settings by forgetting that network. To do so, click on Time at the bottom-right corner > select Settings icon ⚙️ > go to WiFi settings > Select Known networks > choose a network you want to reset > click three dots ⋮ > Then, select Forget.
Why Does My Chromebook Not Remembering Wi-Fi Network?
Navigate to Chromebook Wi-Fi setting > Select the network you want to remember > Toggle on Prefer this network and Automatically connect to this network options. Once done, your Chromebook will now remember your preferred Wi-Fi network.
Why Does My Chromebook Disconnects From WiFi When Closed?
Go to your Chromebook Settings > Click on Advanced located on the left side > Navigate to Privacy & Security settings > Toggle on Keep WiFi on during sleep option > Reboot your device. This will keep your Chromebook connected to Wi-Fi even when it is closed.
Is My Chromebook Causing an Issue or Wi-Fi Router?
Connect your Chromebook to a different WiFi network and if you see a similar disconnection issue, then your Chromebook is likely the reason. But, if it works fine in the office but not at home, it's probably your router causing Wi-Fi disconnection issues.
Conclusion
While Chromebooks offer many benefits, they are vulnerable to various connection issues as well. However, there's always a way to fix the issue.
In this comprehensive guide, we discussed various reasons and effective solutions that can help you avoid disruptions in connectivity.
You can run a Chrome Connectivity diagnostics test or contact the official Chromebook Support team for help. They'll assist you resolve the WiFi connectivity issues and get your device back to normal.
Did this guide solve your persistent WiFi disconnections issue? Let us know in the comments below! We would love to hear from you. 🙂